Create a Place You Love to Live
Landscape Company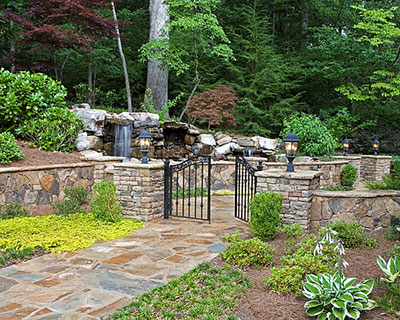 If you are considering getting the open spaces on your property designed, you may have started looking for landscaping professionals online and you will find that a number of companies provide these services. While it's a good thing to have a wide choice, that can make it difficult to choose the right company.
For landscaping services that add to the resilience and longevity of the outdoor spaces of your property, you need to hire the services of a company like Miller Landscape. They cater to customers in and around Acworth, Alpharetta, Atlanta, and Canton, and have handled landscaping projects for customers across Cumming, Holly Springs, Johns Creek and Kennesaw.
They now have a solid customer base in Mableton, Milton, Marietta, and Roswell, and many property owners in Sandy Springs, Smyrna, Vinings and Woodstock as well as the surrounding areas have used their different services such as:
Landscaper
Look for a landscaper with experience and a good reputation and one that has handled projects similar to yours. These professionals will make sure that the right materials are used in their work and that the project is completed to your satisfaction. The landscaper will discuss your requirements and then provide solutions that work well for you, add to the beauty of your property and allow you to make optimum use of the available spaces. The professional you hire will have extensive discussions to understand what your specific requirements are, before providing you with solutions that work well for you.
Landscaping
Creating landscapes that will look stunning, function well, be sustainable and easy to maintain is about hiring a company that has vast experience in the field. These professionals will make sure that every element and feature is planned well and that these installations are strong and durable. This also means you will be more encouraged to use the open spaces on your property which provides you return on investment. A landscape is always a mix of softscaping and hardscaping and the plants and trees have to be chosen with care. The masonry features have to be installed using top quality materials as that will add to the longevity of the space.
Landscaping Ideas
As the property owner you are bound to have certain ideas about what you want your landscape to look like and which features and elements you want installed there. You can discuss all the ideas with the landscapers and they will make note of all these points in the initial discussions they have with you. Their skill lies in using these ideas, incorporating some of their own and providing solutions that fit in perfectly with your needs. When these spaces are planned well, it helps you make better use of these areas.
Landscape design is a specialized field and when you are getting these outdoor areas installed, the one way to get it right is to hire experts like the ones at Miller Landscape. This ensures top quality materials and workmanship will be used and the work will be completed to the highest standards.
"MORE ARTICLES"
Landscape Design
Landscaping
Landscape Maintenance
Pavers
Retaining Walls