Create a Place You Love to Live
Landscape Maintenance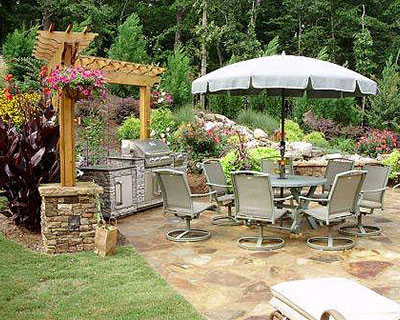 When you are getting your landscape designed and installed, you know you want great spaces that you will feel like using on regular basis. You should focus on hiring experts for the design and installation. But that is only one part of the job and you need to make sure that the landscape is maintained well too, if you want it to add to the beauty and longevity of these outdoor spaces.
For landscape maintenance services that will add to the resilience and longevity of the outdoor spaces of your property, you need to hire the services of a company like Miller Landscape. They cater to customers in and around Acworth, Alpharetta, Atlanta, and Canton, and have handled landscaping projects for customers across Cumming, Holly Springs, Johns Creek and Kennesaw.
They now have a solid customer base in Mableton, Milton, Marietta, and Roswell; and many property owners in Sandy Springs, Smyrna, Vinings and Woodstock as well as the surrounding areas have hired them for:
Lawn Care
The lawn spaces on your property create a great ambience and add freshness and greenery to the outdoor areas on your property. It's crucial to hire landscapers that will use good seed or sod so the grass will be healthy and look great. But this also means you have to make sure these spaces are maintained well. Only regular care, the use of good quality, organic fertilizers and pest control products help maintain the integrity of these installations.
Landscaping
The landscaping on your property is a combination of masonry and softscaping elements and both these aspects need regular care. While the hardscaping will need less-frequent attention, the plantings and lawns have to be watered, fertilized, trimmed and pruned with regularity. That is the only way the areas and all the features in them will stay healthy and looking beautiful right through the year.
Lawn Maintenance
The grassy areas on your property become the perfect space to relax and entertain in. But since these installations see foot traffic, the grass can become damaged and bare if it isn't maintained well. Regular care gives your lawn the strength and resilience to withstand this wear and tear and this is why you should hire expert professionals for the job. These companies make sure organic materials are used in the work and that the maintenance work is carried out with regularity.
Lawn Service
The company that handles all your landscaping work will also include lawn care in their plans. The grass in the outdoor spaces of your property sees a significant amount of wear and tear and over time it can also dry out; which means you will begin seeing brown or bare patches on the lawns. When you hire lawn service experts, they make sure that the grass is well cared for, mowed with regularity and that good quality fertilizers and pest control products are used in the work.
Landscape maintenance is a specialized field and when you are getting these outdoor areas maintained, the one way to get it right is to hire experts like the ones at Miller Landscape. This ensures top quality materials and workmanship will be used and the work will be completed to the highest standards.
"MORE ARTICLES"
Landscape Design
Landscaping
Landscape Company
Pavers
Retaining Walls