Create a Place You Love to Live
Featured Projects
Outdoor Living Oasis
Click on the images below to view a larger display.


Photo 1

Photo 2

Photo 3

Photo 4

Photo 5

Photo 6

Photo 7

Photo 8

Photo 9
Maximizing Your Resources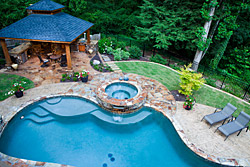 We had the privilege of helping this client enhance their already beautiful home. Though they did choose to do a lot of new installation, such as the covered patio and the columns on the deck, they also enhanced their project further by utilizing existing material as well. The stepping stones from the pool to the covered patio, for example, were re-installed from a different area in the yard previously. Instead of throwing them out, we placed them in a different area where they were fully functional and usefull from the new pool to the new covered patio. Its these type of great ideas that take your backyard project from just good to great. Click here to see more of the this absolutely stunning finished project!
Create a Place You Love to Live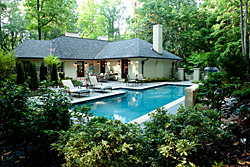 One of the things we LOVE about this project is how the clients incorporated things that personalized the project with things that were meaningful to them. With the help of our design and install team, the homeowners installed an area that had a tree from each of their children. Another area we created for them was a section of raised planters where they could grow their own herbs, flowers, etc. Now the clients not only get to enjoy their beautiful landscape, but also are reminded of their lovely family throughout the year.