Create a Place You Love to Live
Landscape Design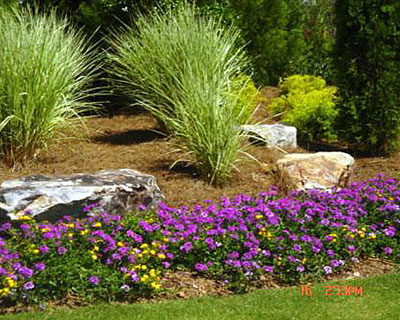 Creating stunning outdoor and alfresco spaces is about hiring expert designers that would be able to plan and define the available areas well and install features that will be functional and attractive all at once.
For landscape design services that will add to the resilience and longevity of the outdoor spaces of your property, you need to hire the services of a company like Miller Landscape. They cater to customers in and around Acworth, Alpharetta, Atlanta, and Canton, and have handled landscaping projects for customers across Cumming, Holly Springs, Johns Creek and Kennesaw.
They now have a solid customer base in Mableton, Milton, Marietta, and Roswell, and many property owners in Sandy Springs, Smyrna, Vinings and Woodstock as well as the surrounding areas have used their services such as:
Landscaping Ideas
As a property owner you have certain ideas about how you want your landscaping to be. A great designer would be able to work on those ideas and provide design solutions that will reflect your good taste and incorporate your specific preferences. These professionals will also incorporate ideas of their own and provide you solutions that fit into your needs and budget and add to the value of your property.
Garden Design
The design of your garden isn't something that should be taken lightly. The outdoor spaces on your property are the backdrop of your home structure and need to be designed with attention to detail. The plans, materials and features used in these spaces have to flow seamlessly with the rest of the elements in the space and the garden design should complement the theme used in the outdoor living and indoor areas of your home as well.
Patio Design
A patio is a transitional space and it connects the indoor and outdoor areas of your home. This means the design theme and concepts used here have to blend in well with the décor and elements in both these spaces. This design task isn't easy and only a professional landscaper would be able to provide solutions that create the kind of areas you would love to spend leisurely moments in.
Landscape Designer
Many people wonder whether they really need to hire the services of a landscape designer to get the outdoor spaces of their property planned and installed. While this isn't mandatory, if you want to make optimum use of this space and want the features to be designed well, you should consider hiring the services of a professional landscape designer for the job. They would be able to incorporate all your requirements and ideas and include some of their own to create stunning spaces on your property.
Landscape Architect
A landscape architect is a qualified professional that has the knowledge and experience to create functional and aesthetically appealing spaces in the outdoor spaces of your home. They use their knowledge to incorporate features that would increase the value of your property and lend form and function to it. These professionals also work closely with the contractors to ensure their plans are followed to the tee.
Landscape design is a specialized field and when you are getting these outdoor areas installed, the one way to get it right is to hire experts like the ones at Miller Landscape. This ensures top quality materials and workmanship will be used and the work will be completed to the highest standards.
"MORE ARTICLES"
Landscaping
Landscape Company
Landscape Maintenance
Pavers
Retaining Walls