Create a Place You Love to Live
Pavers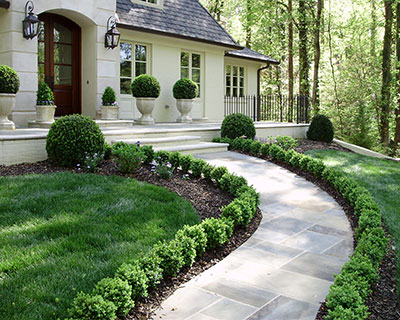 Outdoor spaces on any property are always exposed to the elements and they see constant wear and tear, from climatic changes and regular use. This makes it crucial to use high grade materials in the work that will be hardy and durable enough to withstand these aspects and pavers are the perfect choice for landscaped areas.
For paver design and installation services that will add to the resilience and longevity of the outdoor spaces of your property, you need to hire the services of a company like Miller Landscape. They cater to customers in and around Acworth, Alpharetta, Atlanta, and Canton, and have handled landscaping projects for customers across Cumming, Holly Springs, Johns Creek and Kennesaw.
They now have a solid customer base in Mableton, Milton, Marietta, and Roswell; many property owners in Sandy Springs, Smyrna, Vinings and Woodstock as well as the surrounding areas have hired them for:
Paving Stones
Most properties have open spaces that require some type of flooring installation such as driveways, pathways, walkways, decking, patio and poolscapes etc. Paver stones are a great flooring material for these areas and you can choose from stones such as travertine, slate, flagstone, bluestone and more. These units are available in different sizes, shapes, styles and textures and you are sure to find something that matches your requirement.
Patio Pavers
Your patio is a connecting space between the indoor and outdoor areas of your home and it's a thoroughfare that sees foot traffic all the time. This makes it necessary to choose tough and hardy flooring materials like patio pavers. These could be made of natural stone, concrete or brick and you will find there are a large variety of paving designs, styles colors and finishes to choose from to create an ambience you want.
Concrete Pavers
Concrete is a very resilient material; little surprise then that it is widely used in landscaping projects in the construction of various masonry features. You will also find that there are a number of concrete pavers to choose from and interlocking paving adds to the beauty and integrity of your landscape. These concrete pavers are available in a range of colors, shapes and sizes and can be mixed-and-matched to achieve the look you want.
Brick Pavers
If you like an earthy and rustic ambience in your garden spaces, brick pavers are an excellent option for you. Today, these pavers are available in colors other than the classic brick red. You can choose from different styling, textures and sizes and create stunning paver patterns in various areas of your home such as pathways, driveways, patios, decks and more.
Paver Stones
When you are looking for good quality paving stones, discuss your requirement with your landscaping professionals and they will provide you all the information you need about the best brands, different styles and designs; and will provide advice on which pavers will look great in your garden design theme and concept.
Paver installation is a specialized job and when you are getting these outdoor features installed, the one way to get it right is to hire experts like the ones at Miller Landscape. This ensures top quality materials and workmanship will be used and the work will be completed to the highest standards.
"MORE ARTICLES"
Landscape Design
Landscaping
Landscape Company
Landscape Maintenance
Retaining Walls