Create a Place You Love to Live
Retaining Walls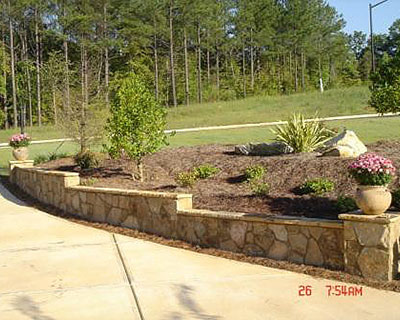 Creating outdoor spaces that will be rugged and long-lasting is about ensuring that your landscape has the right foundation, good quality materials are used in the work and that the installation is handled by experts. In addition you need to make sure that the land is leveled well and has proper support. This is where retaining walls come in.
For retaining wall services that will add to the resilience and longevity of the outdoor spaces of your property, you need to hire the services of a company like Miller Landscape. They cater to customers in and around Acworth, Alpharetta, Atlanta, and Canton, and have handled landscaping projects for customers across Cumming, Holly Springs, Johns Creek and Kennesaw.
They now have a solid customer base in Mableton, Milton, Marietta, and Roswell; many property owners in Sandy Springs, Smyrna, Vinings and Woodstock as well as the surrounding areas have hired their services for:
Retaining Wall Blocks
Retaining walls are specially engineered and custom-designed to fit in perfectly into a specific space. When you are getting any sloping land leveled that leaves a lot of soil and rock exposed and retaining wall blocks can be used to provide support to the landscape. These modular blocks that can be used to build walls of various lengths and heights in different areas of your landscape.
Concrete Blocks
If you want strong and sturdy retaining walls in your landscaping, you should consider structures made of concrete blocks. These blocks provide your landscape the support it needs and increase the sustainability of the landscape as well. If you find the concrete too dull and boring, you can get stone or brick veneer installed on the surfaces to make them look like these materials.
Building A Retaining Wall
Constructing a retaining wall is a job that's best left to the experts. They will take accurate measurements, survey the space and understand the requirement before providing a plan for the wall. They will also make sure that good quality materials are used in the work and that the construction fits in beautifully into the overall design and ambience of your home.
Retaining Wall Design
The retaining walls that are built on your property can serve a dual purpose; they can provide support to the landscape and improve the aesthetics of the space as well. The landscapers that handle this job for you will make sure that the retaining wall design is customized to your needs. It can also incorporate in-built seating or planter spaces.
Block Wall
If you have sloping areas on your property that have to be excavated to make room for some outdoor features, you would have to get a block wall built to support the exposed rock and soil. These walls are made of modular concrete blocks that fit perfectly into each other and are extremely resilient and durable. These walls can also be used to demarcate spaces in the landscape and lend it a well-planned appearance.
Landscape design is a specialized field and when you are getting these outdoor areas installed, the one way to get it right is to hire experts like the ones at Miller Landscape. This ensures top quality materials and workmanship will be used and the work will be completed to the highest standards.
"MORE ARTICLES"
Landscape Design
Landscaping
Landscape Company
Landscape Maintenance
Pavers